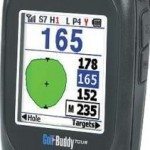 The GolfBuddy TOUR is the latest and most advanced of the Deca International/GolfBuddy brand. It's large screen gives you distance to greens, bunkers, lakes, lay-up points and hazards, and the dynamic green view changes the shape of the green, depending on your angle of approach. Target information is preloaded, and the GolfBuddy features custom plotting technology which lets you add up to 11 of your own chosen targets to each course in addition to what the GolfBuddy already provides. Automatic course and hole recognition knows which course you are playing and which hole you are on.
One of the most notable features is that the GolfBuddy Tour comes with around 14,000 courses pre-loaded, unlike most other golf GPS units, and the company charges no annual membership fees to download additional courses, also uncharacteristic of other golf GPS units.
The GolfBuddy TOUR features 20,000 course storage capability, dynamic green technology, target customization technology, and a digital scorecard. It is the most realistic, true, real-time GPS device I've had the pleasure of using. ($429.99 www.golfbuddyglobal.com).