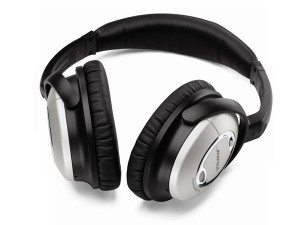 At first blush, the difference between the new Bose QuietComfort 15 noise-cancelling headphones and its predecessor, the QuietComfort 2, is hardly noticeable, but compare their noise dampening function together and the QuietComfort 15s do a far superior job of quieting ambient annoyance to practically silence, much like its redesigned little brother the QuietComfort 3s.
In designing its fourth-generation consumer noise-canceling headphones, the QuietComfort 15s, Bose left the basic design of its popular QuietComfort 2s intact and simply redesigned them on the inside (with the same over-the-ear design, including earcups that swivel and fold flat to fit in a stylish case), adding even more effective noise-canceling circuitry and improving their sound quality.
While the QuietComfort 2s only had noise-canceling microphones (for detecting the ambient noise) on the inside of the earcups, the QC15s have them on the inside and outside, which improves noise filtering. Turning on the noise cancellation creates near muteness from the outside world.  Naval carrier ground crews would be salivating. They do produce pressure on the eardrum, however, but so does every other n.c. headphone. It's the nature of the beast.
With all of Bose's noise-canceling headphones, you have to engage the noise-canceling (powered by a AAA battery) to listen to music. Battery life lasts about 35 hours.  According to Bose, these headphones are designed to defeat a wider range of frequencies, going up to over 90 decibels; the QuietComfort 2s peaked more in the 84-85db range.
Sound is smooth and balanced, a bit better than the QuietComfort 2s and QuietComfort 3s, Base seemed to thump with a little more authority, and the higher frequencies were clear without so much as a crackle.  So if you're looking for expert headphones with serious noise-cancelling abilities, Bose 4th-Generation QuietComfort 15s will fill your ears with delight. (www.bose.com, $300)