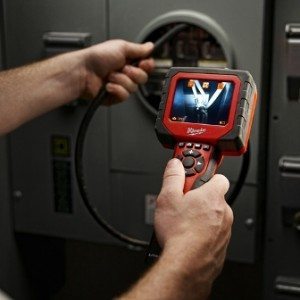 Milwaukee Electric Tool Corporation expands its LITHIUM-ION system with the new M12 M-SPECTOR AV. This is the next generation to the first M12 M-SPECTOR, and the new AV model allows capture of up to 12,000 photos and record up 90 minutes of audio/video.
"Milwaukee's digital inspection cameras significantly enhance productivity by helping professionals quickly and accurately locate and evaluate common jobsite problems," says Paul Fry, Director of M12 for Milwaukee Electric Tool Corporation.  "With the addition of recording ability, professionals can now inspect and document issues, download the information to their computer and send visual confirmation to a customer or supervisor for review."
The new M12 M-SPECTOR AV is available with a 17mm digital flexible camera cable (2311-21) for general applications, featuring a 4X LED brightness control, a 4X zoom, and a 3.5" High resolution color LCD for clear and accurate images. It will also come equipped with a 2 GB SD card and a USB port to download directly from the camera.
With the introduction of the new M-SPECTOR AV and plans to grow the M12 cordless platform in the future, this sub-compact category will include over 20 tools by the end of 2009 that offer innovative solutions in power, productivity, and portability.
The 17mm M12 M-Spector AV also has an integrated microphone and speaker, an onboard Waterproof camera and cable design, Power saving Auto Shut-Off feature and a run-time of 15 hours. This is a powerful tool to find and document leaks inside walls or under the floor. (Around $400, www.milwaukeetool.com).