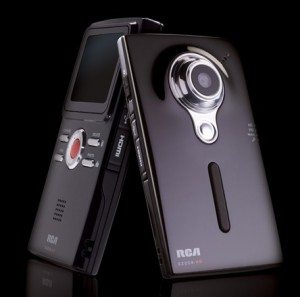 The RCA Small Wonder EZ209HD is the slimmest, sleekest and "sexiest" Small Wonder ever, enabling users to grab HD footage and view playback on the 2-inch LCD display. It's also packing an HDMI socket, a rechargeable battery good for two hours of use and a microSD slot. It has hit shelves for $119.99, a pretty attractive pricepoint for High-Def.
RCA is shaking up the point and shoot camcorder market with the company's 2009-10 line of Small Wonder HD and standard-definition camcorders, which are smaller-slimmer-lighter, and thanks to patented Memory Manager™ software, more user friendly camcorders which are – best of all – affordable.
"Today's camcorders need to deliver much more than just good pictures and video," said Tom Malone, president, Audiovox Electronics Corporation (RCA). "As point and shoot products, digital camcorders must combine ease of use with sophisticated connectivity, which we achieve with the new RCA Small Wonder line."
The RCA Small Wonder camcorder's ease of use starts with Memory Manager Software that requires no CD-ROM because it's embedded in the camcorder and launches automatically with the first USB PC connection. In addition to the Small Wonder's built-in picture button, users can also capture an image from the recorded video using the Memory Manager software's EZGrab™ feature frame-by-frame accuracy. Memory Manager also makes video editing easy, using the "Trim & Join" feature that lets users become a video maker who can customize a clip's start and end points to keep only desirable segments. You have total control to click and drag images and arrange (or rearrange) video segment exactly as desired to create a custom movie. The editing is achieved easily with software that guides you from start to finish. After completing the video production, the user can save it to a PC for sharing on YouTube™, Box.net or via e-mail.
EZ209HD is RCA's slimmest, sleekest, sexiest Small Wonder giving a crystal-clear video picture in HD quality as well as High Quality or WebQuality. You can also grab those action
scenes in high-speed Sports Mode at 60fps (frames per second). With the EZ209HD, sharing videos on YouTube and Box.net is easy and fun to do. Shoot and view videos on the
Small Wonder's built-in 2-inch LCD screen or view the videos on an HD television using the camcorder's HDMI connection.
A microSD card slot (with expansion options up to 16GB), provides the ability to record for several additional hours and an 8 megapixel Still Photo Capture feature makes the EZ209HD perfect for those catching memorable pictures. A built-in rechargeable battery that delivers up to two hours of use is included. MSRP: $119.99. (www.rca.com).