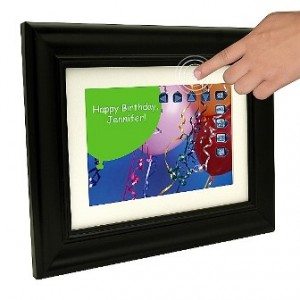 Pandigital, maker of cutting-edge digital photo frames, is bringing something personal to holiday retail stores- the customized frame with your own personal photos already loaded up onto an SD card and inserted into the frame. 
Here's what you do: You can go to these retailers' websites, (like Kohls, Sears and Staples) to purchase a Pandigital digital photo frame, and at time of purchase, you can upload photos directly to the frame from your PC. When the frame ships to your lucky recipient, it will come already loaded with these photos that the special someone in your life will cherish. There is even the option to write a personalized message that will appear when the frame is turned on, such as "Happy Holidays" or "Meet me under the mistletoe."
It's easy and makes a great personalized gift.
If you just aren't sure which pictures to choose, or you want your loved one to choose their own photos, Pandigital has other gift ideas. Here are two:
Pandigital PhotoLink Scanner: The newest Photolink Scanner (model 04) lets customers use a one-touch button to scan photos up to 5×7 inches large with a single touch onto an SD card (which DOES come with the scanner). It stores the photos onto the 512MB SD card, which consumers can then remove from the scanner to place in their PC or digital photo frame for downloading and viewing. MSRP: $99.
Pandigital 8-inch PanTouch Clear: Full touch-screen frame with a unique "floating" image design can store up to 6400 images on 1GB of internal memory. No cropping or distorting, as it's a true 4:3 aspect ratio. MSRP: $120.