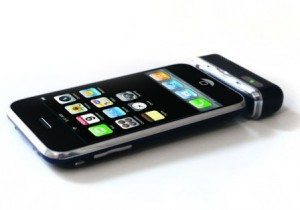 PhoneSuit, makers of iPhone screen protectors, charging solutions, external battery packs, video projectors and more, has introduced there new Primo Micro Battery Pack.
This new battery pack is low profile and strays away from the surround case design. The Primo can power up your iPhone and iPod touch as well as just about any other iPod with a dock connector.
The Primo features an 800mAh capacity battery that will offer extra power depending on the device you are using it with. You can expect up to an additional 11 hours of audio, 3 hours of video and 3 hours of talk time for the iPhone 3G or 3GS. The Primo offers iPhone (1st generation) about the same power, except it adds one extra hour on audio. In terms of the iPod touch, you can expect up to an additional 25 hours for audio and 4 hours for video.
The Primo battery is $34.95, currently available for pre-order with a November 23rd ship date. PhoneSuit Primo iPhone Micro Battery Pack's appeal is its light weight, and pocket-ability.  www.phonesuite.com.