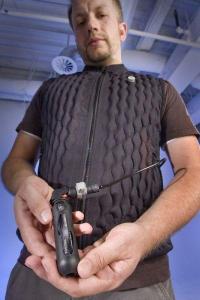 Klymit, an innovator in outdoor technology, introduces the Klymit Kinetic Vest – the first product to use its breakthrough Klymit NobleTek insulation.   Klymit NobleTek is the only technology on the market that gives the ability to adjust your level of warmth via flexible, gas-tight yet breathable chambers filled with gas instead of down or fiber.  This cutting-edge technology provides insulation that is not only adjustable, but warmer, thinner and lighter-weight.
The vest comes in four different styles: the Kinetic Double Diamond – with a body-hugging fit designed for snow sports, Kinetic Khameleon – for hunting and other sports where camouflage and silence are key, Kinetic Red Rock – the lightest-weight insulated vest on the market for climbing and other backcountry sports, and the Kinetic Amphibian –designed to keep water out and warmth in for rafting, kayaking and other water sports.
Here's the cool part. Each vest includes a Klymit Klymitizer to inflate the vests, three Klymit HotShot Kanisters refills plus a stuff sack.  Essentially, it's a shot of gas you shoot into the vest, and the gas's insulating properties work better than down or fiber…..with no additional weight.
"After two and a half years of research and hard work, it's so rewarding to see the finished product," says Nate Alder, CEO of Klymit. "With the Kinetic vests, people can finally see for themselves how well NobleTek insulation works. NobleTek is going to change the outdoor industry."
The Klymit's noble-gas-based system allows you to increase or decrease warmth on demand, unlike fiber and other types of insulation which cannot change when temperatures vary.  NobleTek Insulation is warmer and lighter-weight than fiber insulators because it uses Argon gas, which is better at trapping warmth.  It's also weightless and retains its loft when inflated.  Finally, it stays warm when wet, is windproof and eco-friendly.
The gases used by Klymit are non-toxic, non-flammable and completely safe for both the user and the environment.  Klymit NobleTek Insulation is also less bulky than other insulators.  It is only 15mm (less than half an inch) when fully inflated, and collapses to paper- thin, less than 0.5mm when deflated.  This makes clothing easy to move around in when inflated, and easy to pack into small spaces for camping, hiking and storage when the gas is removed.
The Double Diamond, their flagship vest, sells for $224.95 and is available at www.klymit.com.