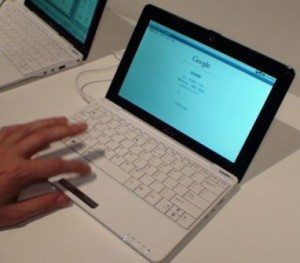 Qualcomm recently introduced a whole new brand of Lenovo devices called the smartbook, and it combines all the best features of a smart phone and a netbook.  Slimmer than most smart phones and able to fit in the palm of a hand, it offers not only a QWERTY keyboard but also a full-size screen.
It's powered by a Qualcomm chipset platform that has, dubbed Snapdragon, and will run a series of different applications including Flash, Adobe and AT&T's mobile broadband.  Rumors are flying that Asus, Toshiba and a host of other PC manufacturers are planning to launch their own smartbook.  Will this be a new PC category?  To early to tell.
The new Qualcomm Lenova Smartbooks will have full Flash Player 10 implementation, support HD video playback and use a Qualcomm chipset (presumably a version of Snapdragon). The smartbook will also come with embedded WiFi, GPS, and 3G. No information was given as to the OS, but ARM-based chips can only run Linux, so it's a pretty obvious partnership.
If an ultra cheap and portable laptop with extreme battery life and extensive mobile connectivity is on the horizon, then I give the Smartbook concept a thumbs up. Name and price are still being kept quiet on this new model as the product will officially launch this January at the Consumer Electronics Show (CES).