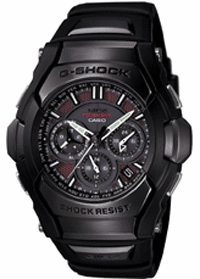 Casio redefines its high end G-Shock watches with the introduction of the GIEZ GS1300B-1A, combining premium design with classic G-Shock toughness and technology.
The GIEZ sports a sleek, stainless steel case enclosed in a black ion plating with a dual-layer dial for a subtle three-dimensional appearance. In addition to superior shock and water resistance, GS1300B-1A features advanced Tough Movement, Non-Stop Tough Solar Power and Self-Adjusting Multi-Band 6 Atomic Timekeeping technology.
Tough Movement feature showcases an Auto-Hand location technology, which automatically checks and adjusts hand positioning at fifty-five minutes after every hour. By employing a LED to detect hand-gear positioning versus internal time counter, the watch can detect any inconsistency and correct itself even if the hands are displaced by magnetic force or shock.
The Non-Stop Tough Solar Power Mechanism on the Casio GIEZ features a tiny, solar panel combined with a large-capacity rechargeable battery, which enables a variety of energy-hungry functions to operate smoothly. The result is an impressive solar timepiece that assures highly accurate and reliable timekeeping and that greatly reduces the need for battery change.
Self-Adjusting Multi-Band 6 Atomic Timekeeping Technology receives time calibration signals automatically from up to 6 transmitters around the world (US, Germany, UK, 2 in Japan and China) and updates settings accordingly for pinpoint accuracy. This technology even adjusts for Leap Year and Daylight Saving Time. With Casio's Atomic Timekeeping Technology, you will always have ultimate precision.
"The new G-Shock GIEZ personifies style and advanced timepiece technology for the active yet refined gentleman," said Shigenori Itoh, Vice President of Casio's Timepiece Division. "We are thrilled to offer such a handsome timepiece that easily transitions from business to casual wear."
Impeccably designed, the GIEZ also features a countdown timer (a new feature for the GIEZ), 1/20 second chronograph function, 29 city world time, and Neo-brite luminous hands and markers. Available at finer retailers nationwide and online for $500. (www.casio.com)