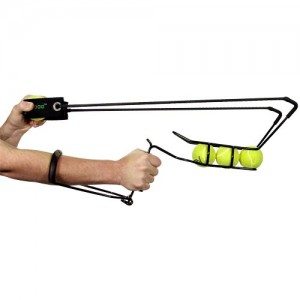 Owners of dogs with boundless energy but blessed with a poor throwing arm have a "new best friend"- the Hyperdog 4-Ball Launcher.
This ball launcher is a powerful slingshot device that holds four tennis balls in a rack below the handle. The makers say it will fire a ball up to 200ft – which is bound to exhaust even the fittest dog after a few fetches (without you having to move from your vantage point).
The Ball Launcher also allows to pick up balls without the use of your hands. This is important to many since that ball we're talking about is likely drenched with saliva.
The Hyperdog 4-Tennis Ball Launcher is a great exercise tool for your dog and is available for around $32.50. (www.holabirdsports.com)