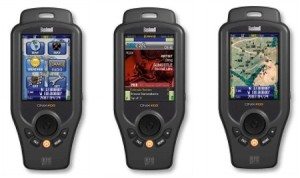 The latest Bushnell Onix 400 GPS With XM Nexrad Weather is not only a GPS with large 3.5 inch screen with topographic mapping, but also has XM Radio and NaxRad Weather Information and satellite imagery onboard.
The Bushnell Onix 400 GPS With XM Nexrad Weather is extremely intuitive, helping you to find your way by comparing what you see around you, and what you see on the screen because it provides you with geo-referenced satellite images. Along with the topographical maps and compass, there is also the weather data to keep you up on the latest weather news flashes and impending storms.
Bushnell's ONIX 400 GPS with XM NEXRAD has an extra-large 3.5″full color LCD screen with built in Base Maps, a SiRF Technology 20 Channel Receiver, and a 5-button Nav-pad for on-screen and menu option navigation. It has six selectable user side views including Inland Boating, Geo caching, camping and hunting. A self-calibrating 3-axis digital compass is super accurate, and the helical satellite antenna and 28mb microSD card round out this impressive feature set.
You can download NEXRAD weather data where you stand via XM NavWeather system. The Bushnell ONIX 400 is built to XPX7 waterproof standards and has a rubber armor finish. ($499, www.bushnell.com)