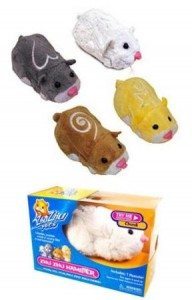 Zhu Zhu Pets and Play sets are fun loving toy hamsters that each come with a unique set of personalities. They chatter, scatter, scoot and scurry. To go along with the fun little hamsters is a collection of 9 play sets that each connect to create an entire hamster playhouse including a skate park u-turn, adventure ball, exercise wheel, garage with hamster mobile and more.
Zhu Zhu Pets are available as five different characters: Zhu Zhu Pets Patches, Zhu Zhu Pets Chunk, Zhu Zhu Pets PipSqueak, Zhu Zhu Pets Mr. Squiggles and Zhu Zhu Pets Num Nums. Zhu Zhu Pets drive around in little cars, zip up ramps and spin down slides, run in their hamster wheels, and get into all sorts of crazy situations.
The artificial intelligence of Zhu Zhu Pets even allows them to know what room of their hamster habitat they are in. They make toilet-flushing or teeth-brushing sounds when they enter the bathroom and sleeping noises and alarm-clock sounds when they go into their bedroom.
In addition to the five hamsters, multiple Zhu Zhu Pets accessories are also available for purchase, allowing kids to collect and connect them all to create their own customized hamster habitats. Zhu Zhu Pets accessories include: Hamster funhouse, Hamster wheel and tunnel, Hamster-mobile and garage, Spiral slide and ramp, Adventure ball, Skateboard and U-turn, Pet bed and blanket and Pet carrier and blanket.
Zhu Zhu Pets are an obvious choice for kids. Children can pet and love them as well as hear them; they can't squish them, lose them or forget to feed them though. This game is recommended for ages 4 and up.
Zhu Zhu Pets run on batteries and are a bit hard to come by.  Check out their website for availability. Prices are all over the board for these guys. You can find the hamsters online for as low as $6.99 (sometimes as high as $40), and the playsets range around $30 and up. (www.zhuzhupets.com)