nobis is a headwear inspired, lifestyle apparel brand, which got its start in Canada in 2007. nobis continues to challenge the definition of premium headwear and outerwear with their Fall 2009, and nobis has incorporated some "gadgety" technology into the threads and features of their apparel that caught this technology writer's eye.
Today, nobis is being sold in over 10 countries around the world, and their stuff is funky. Aside from their eccentric vogue, nobis makes use of material and gadgetry in their clothing that's very unique.
Take for example their CAP_LOCKS technology in their ball caps. While they didn't invent the technology, they do use the boa-dial technology as a way to customize and personalize some of their hats. The boa-dial is pretty cool, and I've yet to see any other company employ the same technology in their headwear.  Basically, with the CAP_LOCKS, you can customize your hat to the perfect tightness without a cynching strap.  Simply dial up your size.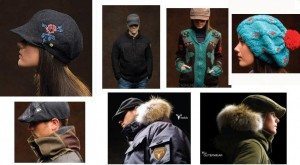 Another ingenuity feature has to do with nobis' fiber they use to make their clothing.  They call it "technical" fabric for their outwear that is wind- and water-proof.  So even though the material and style have panache and elegance, nobis clothing can still withstand some heavy weather.
Mostly though, nobis is about innovative and creative design . They try to use fabrics like eco-llama wool that isn't typically used to create headwear. They also include a lot of embroidery, hand-knits, cross-stitching and detail, from button designs to the fun inside lining.  nobis puts meticulous detail into every aspect of the hats and outerwear they create. (www.nobis.ca)