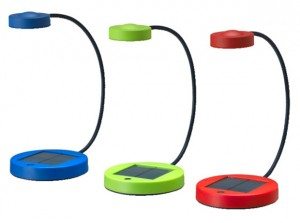 IKEA, the Swedish Furniture Monster of a company, introduced the Sunnan, a solar-powered desk lamp that's cute, costs only $20, and doesn't use any electricity. A full charge will give you about four hours of light.
Created by famous furniture designer Nicolas Cortolezzis ,the solar cells transform sunlight into electrical energy, requiring no electrical connections.  The LED consumes 70% less energy and has at least 4 times longer life than incandescent bulbs in similar lighting.
The IKEA Sunnan Solar-Powered Lamp has 3 rechargeable AA 1.2V batteries for solar cell driven products. When the battery is fully charged, the product will light at full power for aproximately 3 hours. Recharging time is 9-12 hours in sunlight, but over 12 hours on a cloudy day.
Made of ABS sturdy plastic, aluminum, steel and acrylic-sealed, the 3″ diameter lamp is accompanied with a 17-inch flexible gooseneck…..uhhh, neck.  Even better, for every Sunnan lamp sold, IKEA is shipping one for free to kids in Pakistan via UNICEF, so those who live without electricity can study at night. (www.ikea.com)