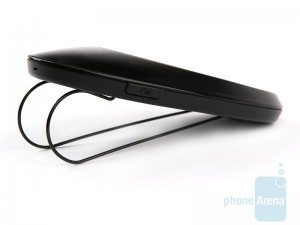 Jabra SP700, Jabra's Bluetooth speakerphone, can be setup and paired in seconds, and attach the clip of the deviceto your car sunshades.
The SP700 offers everything that the SP200 does, but adds voice alerts in 10 languages and integrated FM transmitter with quite a few functions. The hardware controls of the SP700 are simple. There's a single button on the front side that you can use for various things, to power on/off the device, answer/reject calls, dial numbers etc.
When you activate the FM Transmitter, the device will pronounce the exact frequency you need to tune your car radio to, if you want to hear callers through the car sound system. If your car audio player supports RDS, you will also be able to see the telephone number of the caller as well. Otherwise you will have to rely on the voice notifications.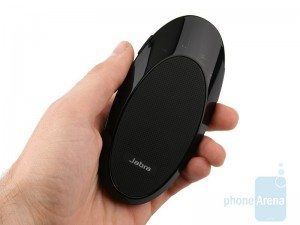 The volume is controlled by the car audio player while the transmitter remains switched on, because the volume controls of the SP700 are used for frequency adjustments in this case. Keep the "+" button pressed for a while and the Bluetooth speakerphone will start searching for a free radio frequency to tune to and will let you know when it finds one.
The Jabra SP700 also supports A2DP, meaning you can listen to the music you´ve got on your cell phone via the car audio system, assuming your handset supports A2DP. (around $50, www.jabra.com)