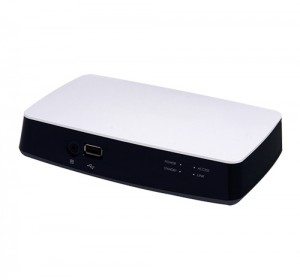 Alpha Networks announced the debut of its brand-new home entertainment and security solution with its self-developed software engine "Borg", which offers seamless connectivity and management of internet devices. It will debut at the 2010 International CES in the Las Vegas Hilton.
The brain of Alpha's new digital home solution is the powerful software engine "Borg", which combines various Alpha multimedia technologies into one integrated software platform that provides easy control of all connected devices at home.
Imagine yourself watching a movie on a digital TV in your living room. A stranger walks into your backyard and triggers your IP camera. The video image from the IP camera automatically pops onto your TV screen. Without having to leave your seat, you can adjust the viewing angle of the IP camera to capture a better view of the target with your remote control. You can install several IP-cameras to monitor babies, children, or elders in other rooms so you can react promptly in case of emergency.
In addition to safety and security benefits, "Borg" provides easier ways for consumers to enjoy their video and audio collections at home. Multimedia files can be shared, accessed, and played by internet-based devices within your home network without any complex configuration. Movies, TV shows, or other HD content can also be delivered to multiple TV screens in different rooms wirelessly and smoothly. Besides, all "Borg" enabled devices are plug-and-play and offer an extremely easy-to-use interface to fit users of all ages.
The network devices incorporated with this software platform are just as stunning as "Borg". These include a high-definition media player that supports rich media formats and video playback for up to 1080p resolution, high-definition IP-STB, wired/wireless internet cameras of various form factors, and network attached storage devices with market-proven performance. In addition, Alpha will present a wide range of home networking products, such as the compact-design 200Mbps powerline bridge, the newly-launched wireless HD kit for wire-like in-house multimedia distribution, and 3G wireless routers. (www.alphanetworks.com)