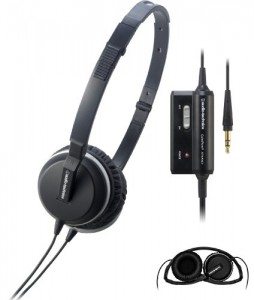 Audio-Technica today announced the introduction of its ATH-ANC1 QuietPoint® active noise-cancelling on-ear headphones, a compact on-ear model that provides outstanding performance, comfort and value. The ATH-ANC1 incorporates Audio-Technica's acclaimed active noise-cancelling (ANC) technology to block out up to 85% of outside noise, while delivering clear and natural sound.
The new ATH-ANC1 folds for easy storage, and has an included carrying pouch. Its active noise-cancelling circuitry is located in an external module attached to its connecting cord, for extremely lightweight on-ear wear. The ATH-ANC1 features soft, long wearing ear pads for complete comfort, even on long trips or extended listening sessions.
Like all Audio-Technica QuietPoint headphones, including the recently introduced ATH-ANC7b, winner of a CEA Innovations 2010 Design and Engineering Award, the ATH-ANC1 detects environmental noise using miniature built-in microphones, and applies a corresponding sound-cancelling signal.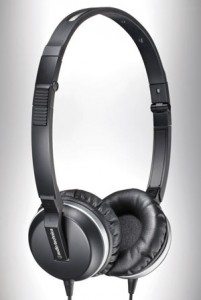 Although compact, the headphones deliver powerful, immersive sound, thanks to their precision high-efficiency full-range drivers and premium internal components. They're ideal for traveling, jogging or any other private listening, and for use with the Apple® iPod®, iPhone™ and iPod touch®, portable music players, computers, in-flight entertainment systems and other devices.
Unlike some other noise-cancelling headphones, the ATH-ANC1 (and all Audio-Technica noise-cancelling headphones) work even without batteries or when the noise-cancelling feature is turned off. In addition to its travel pouch, the Audio-Technica ATH-ANC1 comes with a 1.6-foot extension cord, an airline adapter and an AAA battery. ($130, Available January, www.audio-technica.com)