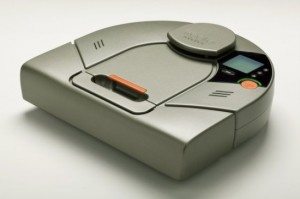 If you like the iRobot Roomba, there's a new sherriff in town, and it goes by the name of the XV11.  Doesn't exactly roll off the tongue, but it sure performs. The startup company out of Menlo, California, Neato Robotics,has announced that beginning next year, they will be selling a new robotic vacuum cleaner called the XV11 that uses technology learned from the Defense Advanced Research Projects Agency's (DARPA) robtic vehicle challenges in order to more effectively clean rooms.
Their new robotic vacuum not only looks different from the Roomba, but the XV11 operates in a alternative manner when mapping out floor territories to clean. Using lasers and SLAM technology (simultaneous localization and mapping) when the XV11 starts, it begins to map a layout of the room even before it starts cleaning, which according to Neato Robotics is the most effective way to clean a room instead of roam-mapping by bumping into objects.
Then the robot goes back and forth across the room returning to its base when the job is done or when the unit needs to be recharged.
In addition to using a laser assisted mapping system, the XV11 also has features like a top loading dust bin, edge detection to keep it from tumbling down stairs and also a programmable schedule to set how often you want the robot to clean.
Units will go on sale beginning late February and will retail for $399, however, Neato Robotics will be demoing the XV11 at CES in January. (www.neatorobotics.com)