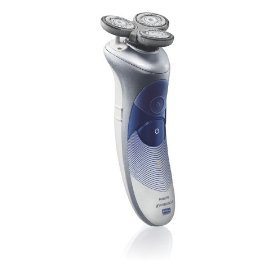 Electric razors are convenient and speedy, and don't need shaving cream, hot water, or anything else. That's the up-side. However, electric razors often do not provide a very close shave and some are prone to irritate the skin. The Philips Norelco Nivea Razor, Model HS8420, is a little different.
The Philips Norelco Nivea Razor Model HS8420 is similar to other electric razors in several ways. It's rechargeable, has about three dozen small blades that are hidden beneath a thin metal shield that protects the skin from the spinning blades and you can use it in the shower as well as a dry environment.
What sets it apart, however, is the Nivea conditioner that is dispensed as you shave. This conditioner is loaded into the razor by inserting the tip of the specially- designed conditioner into the reservoir on the back of the razor. You'll be able to see the conditioner enter the see-through reservoir.
To use the razor, you press the power button, hold the three heads against your face, and press another button to release the Nivea skin conditioner. The Nivea conditioner contains an ingredient known as MicroTec, which protects the skin from irritation, leading to a more comfortable shave.
The Philips Norelco Nivea Razor's base is much smaller so it doesn't take up a lot of counterspace. (MSRP $109, www.norelco.com)