Planika Fires unite modern, international design and the advanced technology of eco friendly, smokeless bio ethanol based fire. Planika Coffee Table Firepits are not only elements of interior design, but most importantly they are real ventless fires enhanced by design. They create unique atmospheres with an always changing look, which offer the benefits of ethanol fire pits.
Fire Design, a new category of design initiated by Planika takes the vent free fireplace sector to the next level. Planika has moved away from the traditional approach to fireplaces. The diversity of forms designed by international design masters underlies the concept of Planika Fires and allows the introduction of fire into the most sophisticated spaces.
The design process of Planika Fires takes place in the Planika Studio. The success lies in designing a new form that addresses contemporary lifestyle. Design together with the technical knowledge and experience are the basis for every model. Attention paid to details on every production stage from the initial concept to the final product, careful selection of materials and respect for the nature allows Planika to create a product that is in accordance with our sustainable agenda.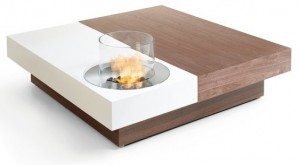 How in the world did this company get started? It started with a simple bonfire in the heart of the Australian continent, under the red Ayers Rock. Two tourists, Alfred Weilandt and Jerry Dabrowski were sitting by the fire, long into the night, listening to Aboriginal tales about a mythical Epoch of Dreams. The atmosphere created by the flames inspired the two to find an easy way to have the same fire in contemporary interiors.
Their intention was to overcome the existing difficulties in the form of soot, ash and the need for a chimney, all which are associated with fire in an interior space. Contemporary lifestyle demands products that through design have a character of their own but are safe and easy to use. This sparked the beginning of Planika by the two founders Alfred Weilandt and Jerry Dabrowski. After months spent on designing and testing, they came up with a product combining the beauty of form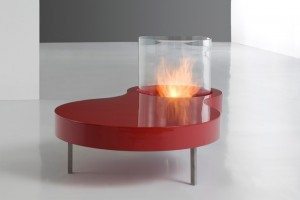 and the comfort of use.
Planika, a company that has developed a way to prevent fire from filling the house with smoke and covering the walls in soot. The secret is Fanola®, a green, renewable ecological liquid fuel, certified for environmental safety, that is smoke- and odor-free. As the world's first fire professionals, Planika wants to give people the technologically advanced smokeless biofire that at the same time grabs the attention and stimulates new levels of perception. Planika Coffee Table Firepits vary in price. (www.planikausa.com)