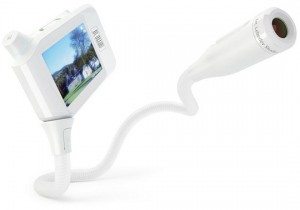 Art Lebedev has brought out for us another novel concept, aside from the rather remarkable vision of the Transparentius.  What looks at first glance to be one of those snake reading lights is actually a bendable digital camera in the shape of a flexible body with an integrated lens that can be hooked to either a viewfinder on the end of the camera, or an attachable 3-inch LCD display unit.
Designed to take photos or videos with as few controllers as possible (particularly for those who just want to snap a few interesting shots), the incredibly versatile Fleximus camera allows "a photographer to shoot at angles never imaginable before".
Like most of Lebedev's other designs, there's not much in the way of technical specs quite yet (or plans of production), but this is one of the more interesting and potentially entertaining concepts the design studio has come out with to date.
Via :  Slash Gear