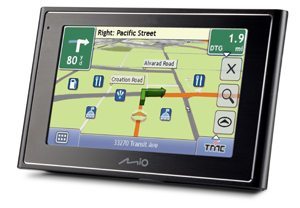 After a merge with Navman, the leading company which is Mio Technology has just unveiled its new product family. This new Moov line of navigation devices is sure to give you optimum performance with a neat new user interface as well. These four new products with incorporated internally developed software are sure to satisfy consumer needs for quality GPS systems.
The first two of Mio's Moov line are the Mio Moov 300 and 310. These both boast 4.3 inch widescreen windows. With more screen, comes more on-screen information and display, making it easier for you to get around. Also these two have text-to-speech functionality. With this, it can announce actual street names for you when making turns, allowing you to stay safe and keep your eyes forward and on the road. The Moov 300 and 310 even come with more than 3.5 million points of interest like restaurants, hotels, and gas stations.
If widescreen isn't your style, then the other two members of the Moov line family might be your solution to a great GPS device. The Mio Moov 200 and 210 sport a square-shaped display of 3.5 inches. The display is not only bright and clear, but it also has an anti-glare screen which helps you see where you're going no matter how hard the sun is beating down on you. These two products also come with the handy text-to-speech functionality, helping you stay focused by announcing your important turns in a clear manner. With the 3.5 million points of interest which these two devices have, you will never be out of reach from a much needed gas station or a great place to have dinner.
All four of these products from Mio come with pre-loaded maps of the 50 U.S. States and Puerto Rico as well. The advantages of choosing the Moov 310 and 210 over the Moov 300 and 200 is that the first two mentioned have TMC real-time traffic updates, which can help you avoid those trouble spots. The Moov products come in varying prices, ensuring that there will be a perfect one that will appeal to everyone.
Via: Gadgets Fan