The purse….what can you say about it?  Every woman has one, and some men are catching on to the convenience of a "carry-all".  But with such a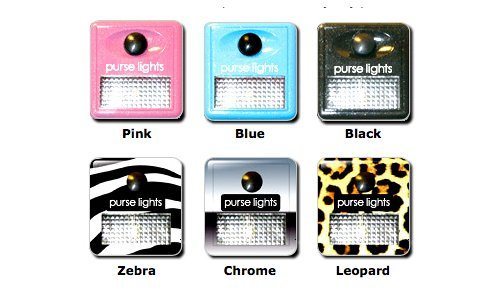 universal product, the design itself has stuck to a tried-and-true mold: A big handbag that opens in the center. I guess the world has accepted this concept, but what it lacks is good accessibility to your stuff.  The pocket is usually deep and dark, like a water well.  The only way to get your things is to dive in, feel around, and hope for the best.
They say that there's a product for everything.  I believe it.  Introducing the Purse Light, by a company called…..well…..Purse Lights Company. The Purse Light is an LED light that attached to the inside of your purse and clicks on at the touch of a button.  The LED light illuminates the cavernous inside of your purse and allows you to see all the way inside, so you can quickly find whatever's in there.
For $17.95, you can get your hands on a pack of three Purse Lights in your choice of 6 colors- pink, blue, black, zebra, chrome or leopard.  The Purse Light is also great for emergencies.  Just detach the light and you've got a small hand flashlight. (www.purse-lights.com)