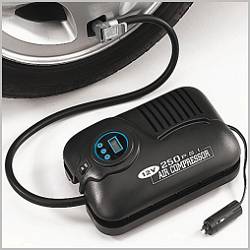 Simply pre-set the correct pressure with the digital touch control, connect to your car cigarette socket and it will inflate tyres in half the time of many standard tyre compressors, automatically stopping when the correct pressure is reached. Complete with high pressure air hose and quick release valve connector, plus 12 ft of power cord.
• Digital tyre compressor with automatic pressure cutout.
• High capacity pump inflates tyres twice as quickly as standard compressors.
Via: Thanks Darling