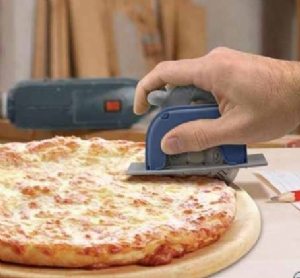 Real men want a real pizza cutter – show your pizza who is boss with this fantastic Pizza Pro3000.
Are those rubbish knives and girly pizza utensils getting in the way of your manly status?  The Pizza Cutter Circular Saw is the answer!  Pizza Pro 3000 is a circular saw shaped pizza cutter, ideal for your favourite Italian flatbread.  Try it on peshwari naan's, toast and even luncheon meats for that testosterone packed snack at any time of day.  Who uses circular saws to cut pizza?  Men do, that's who.
* The Pizza Pro 3000 is a pizza cutter in the shape of a circular saw!
* With a sharp rotary blade, safety guard and handle
* The Pizza Cutter Circular Saw measures approx 8 cm x 10 cm x 4 cm
* A fantastic kitchen accessory for any home!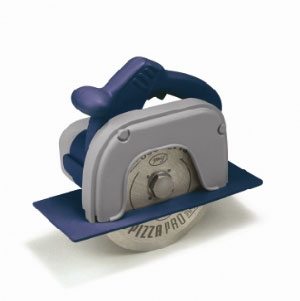 Does your bachelor pad need toughening up?  Are those throw pillows on the bed getting in the way of your masculinity?  Just as it has always been women's place to cook the meat and the men's place to carve it, the Pizza Cutter Circular Saw makes light work of carving your favourite pizza.  It's all about technique, strength and endurance…you don't need any to use the Pizza Pro 3000, which is why it's great for men.
Via: Find Gift