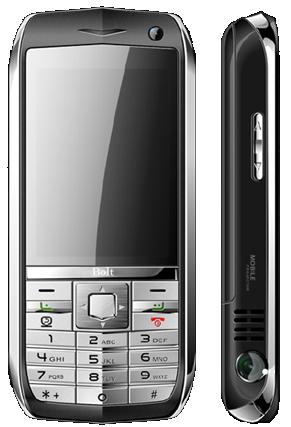 This year at CES, Logic Wireless will show off the second iteration of its Logic Bolt projector phone, the Logic Bolt version 1.5 Projector Phone. It is a bit thinner than the original that was announced and released in 2009, and it also adds TV & FM tuners as well.
The device, which looks similar to a basic Nokia or Sony Ericsson candybar phone, runs the Symbian S60 operating system and offers up to two hours of projection time or between two and three hours of talk time. It also has a 1-megapixel front facing camera for two-way video chatting and a second 3-megapixel camera on the back.
The Logic Bolt 1.5 projector lens is on the bottom left-hand side of the phone, which looks less intuitive to use than if it was on the top of the device. The main display is a smaller 2.6-inch screen that has a 640 x 480 pixel resolution.
Logic Wireless says the phone will be on the CES showfloor where other new LG devices should be displayed as well.  (www.lg.com, www.logicwireless.com)