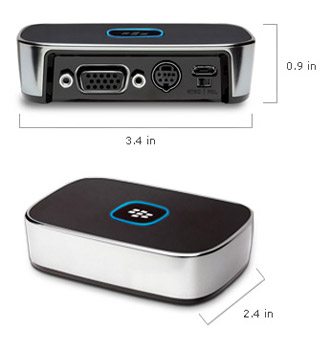 Research in Motion introduced a new way to deliver PowerPoint presentations without needing your laptop. The BlackBerry Presenter is an accessory for BlackBerry smartphones that can easily be plugged into a projector or monitor and allows you to display a PowerPoint presentation wirelessly from your BlackBerry via Bluetooth.
Using the BlackBerry Presenter you can navigate presentations, view speaker notes, loop presentation slides and even reference information on one slide while displaying another. Thanks to a Bluetooth connection between the BlackBerry SmartPhone and BlackBerry Presenter, you can even walk around while presenting (up to 30 feet between the devices).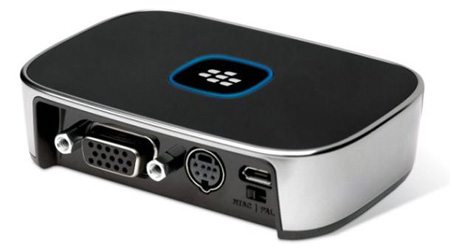 The BlackBerry Presenter is not compatible with the BlackBerry Curve 8300 or BlackBerry Pearl Flip 8200 series, but should work with any other models running BlackBerry software v4.6 or higher.
Here are some specs:
Video Formats: NTSC, PAL
Video Cable: S-Video, VGA
Power Connection: Micro USB
Display Resolutions: 640×480 (VGA), 800×600 (SVGA), 1024×768 (XGA)
Bluetooth 2.0 + EDR, Class 1.5
Support for most PowerPoint animations and transitions
The BlackBerry Presenter will be available later this month on www.ShopBlackBerry.com for $199. For more information about the BlackBerry Presenter, visit www.blackberry.com/presenter.