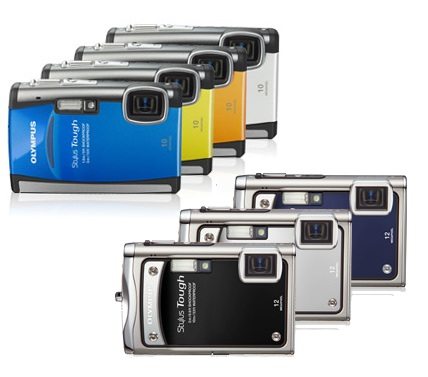 Olympus' unique range of waterproof, shockproof and freeze proof TOUGH cameras has grown with the addition of the 12 Megapixel TOUGH-8000 and the 10 Megapixel TOUGH-6000. Both models feature 3.6x wide zoom lenses, great for taking awesome wide-angle photos of rugged terrain and for zooming in on the distant bits that you can't get to.
Blur caused by camera shake is virtually eradicated on the two new TOUGHS, thanks to Dual Image Stabilisation and, as both cameras feature TAP Control, they can be operated by simply tapping on their casings. The TOUGH-8000 and TOUGH-6000 let you take extremely good photos in extreme conditions.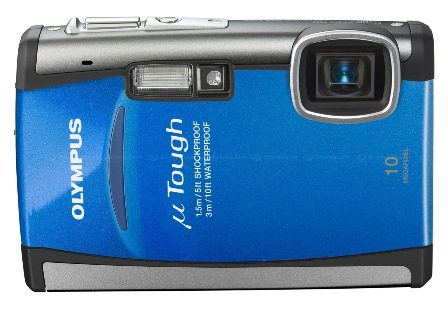 The new top-of-the-range TOUGH-8000 is waterproof to 10m, shockproof to falls from up to 2m, freezeproof down to temperatures as low as -10°C and crushproof to weights of up to 100kg.
Fellow newcomer, the TOUGH-6000 is no wimp either. As well as being freezeproof, this model is waterproof to 3m and impervious to drops from up to 1.5m.
Both models inherit the versatile 3.6x wide optical zoom first seen on the EISA Award winning Olympus 1030 SW. Starting at 28mm wide-angle, fantastic for landscapes and architectural photos, this lens zooms up to a useful 102mm, which is ideal for concentrating on more distant subjects. And Dual Image Stabilisation significantly reduces image blur caused by camera shake, even when the TOUGH-8000 and TOUGH-6000 are being used in challenging situations.[adsense]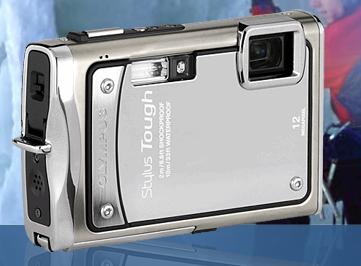 The TOUGH-8000 and TOUGH-6000 are packed with features that make beautiful photos a cert. And, with 12 and 10 Megapixels resolution respectively, results can be enlarged as big as you wish. Capable of recognising up to 3 faces, the TOUGH-8000's Face Detection Technology guarantees that human subjects are always perfectly focused and exposed.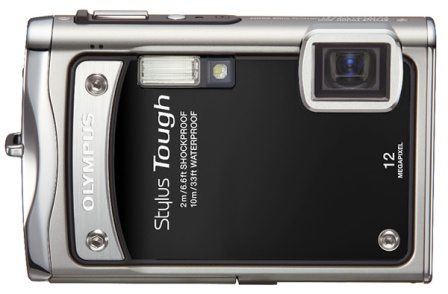 The TOUGH-6000, which boasts Advanced Face Detection Technology, goes one better and can detect up to 16 faces. It also has a handy Smile Shot feature which automatically takes the picture as soon as the subject smiles and, for even happier results. Beauty Mode can retouch their skin as the shot is being taken, removing lines and wrinkles for a smooth glowing complexion.
To further improve picture quality Shadow Adjustment Technology has been included to boost shadow detail that would otherwise be lost. And for the ultimate in photography convenience, Intelligent Auto Mode analyses the image being photographed and matches it to one of five commonly-used scene modes, automatically selecting the best choice.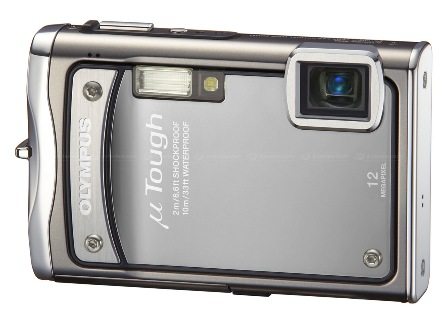 As an alternative to the intuitive on-screen menus displayed on their 6.9cm/2.7" HyperCrystal III LCD screens, the TOUGH-8000 and TOUGH-6000 also feature Tap Control. This allows fast access to a range of settings simply by tapping the camera body – even when wearing gloves, such as when skiing.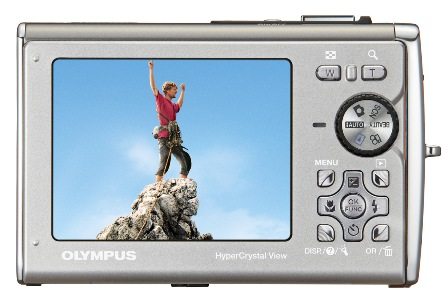 The TOUGH-8000 and TOUGH-6000 are waterproof, shockproof and freezeproof, and available in a range of great colors – so picking the right one might prove tough too! Expect to see them in UK stores in mid-January and early February 2009 respectively.
Olympus Stylus Tough-8000 is priced at $399.99 and Stylus Tough-6000 sells fo $299.99. (video courtesy of DigitalRev) (www.olympusamerica.com)