This mouse concept, by Thanko, lets you maintain a clean desk while using the mouse, as it has a small vacuum hole near the optical sensor. The USB Mouse Vacuum uses a small switch on its side to turn on and off the cleaning process, providing a very interesting alternative to the traditional dust wiping.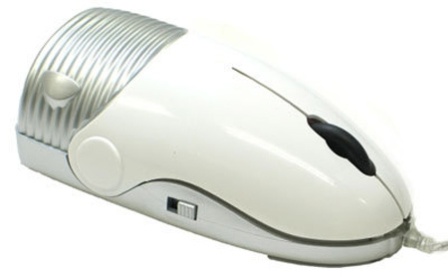 A simple 800 dpi optical mouse, with a cleverly built-in miniature vacuum cleaner, the Dust Vacuum Mouse is perfect for cleanliness and promotes wellness with the termination of dustmites and dirt on surfaces.
The 100 grams-heavy USB mouse features a dust-bin at its back end, but it's very small and you have to empty it often.
Features:
USB vacuum mouse keeps your desk dust-free

This USB vacuum mouse is definitely one great gadget for those who always emphasize on neatness and cleanliness of their work desks.
The gadget is a combination of a simple 800dpi optical mouse with a scroll wheel and a miniature vacuum cleaner that keeps your desk free of dust.
The mouse has an on off switch on the side for turning the vacuum function on and off.
The mouse takes power from the USB port of your computer.
Meaning you need to have your computer either staying on or in standby mode to provide power for this mouse, while doing vacuum cleaning for your work desk. You know, some prefer to have their computer switched off while cleaning their work desk.
The mouse has a dust reservoir at the back-end. But seems to be too small that needs you to empty it very often. Or else it might burst off and get your desk full of dust again.
Made of plastic
·  Its weight: 100g
(around $30, http://www.thanko.jp/usbmask2/)