The Heil PR-40, used by legendary music stars and media stations all over the world, is an excellent low-end response microphone, and also shines on the mid and high-end range as well.
With professionally looking metal build quality, the Heil PR-40 offers a wide frequency response, studio-quality articulation and superior natural reproduction. The PR-40 is the text-book definition of dynamic microphone technology.
The PR-40 comes in a high quality carrying case. An optional shock mount is available for critical applications, and is highly recommended for studio vocals, as well as podcasting.
With a frequency response of 28hz-18kHz, the low end on the PR-40 is deep and accurate, capturing the tonality of bass, the sharp snap of a drum, and vocals outshine any microphone on the market. The PR-40 is also ahead of the game in terms of its workabiltiy with an equalizer. Simply put, it keeps things sounding the way they should, and it limits the amount of EQ needed to manufacture sounds.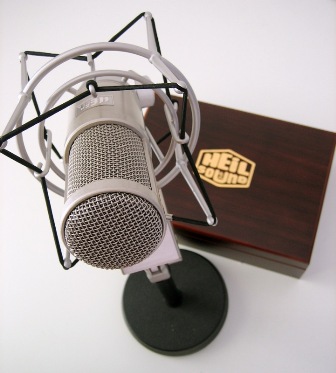 If you do a lot of transmitting over the internet, the PR-40 gives you professional voice sound quality in a small, affordable package.  Many professional users, including talk-radio hosts, have chosen the PR-40 over the more well-known, and comparatively expensive, competition.
[adsense]
The pattern control of the Heil PR 40 is marvelous, achieved by using a combination of materials for the large low mass diaphragm and a special mixture of neodymium, iron, and boron that gives the PR 40 the strongest magnet structure around. These features allow the microphone to achieve magnificent dynamic range.
A unique screen system, using two different diameter mesh screens and an internal breath blast filter, allow the user to talk closely to the microphone with little worry of pops or excessive sibilance. The large diameter dynamic element is mounted in a unique Sorbothane © shock mount atop a non-resonant fixture, decoupling the element from the massive steel body. This body and the internal hum bucking coil removes any worry of using the PR 40 near monitor screens or noisy lighting fixtures and controls.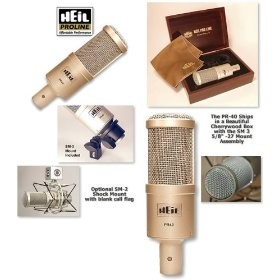 The Heil PR 40 represents a completely new dynamic microphone technology for all types of users. Producing the widest frequency range available in a dynamic microphone, the PR 40 outperforms most condenser microphones, and can withstand huge amounts of SPL. At the same time, it maintains the 25 year Heil Sound tradition of superbly natural voice articulation.
The PR-40 is available for around $329 from most retailers, and directly from Heil Sound.(www.heilsound.com) (video courtesy of NewMediaGear)