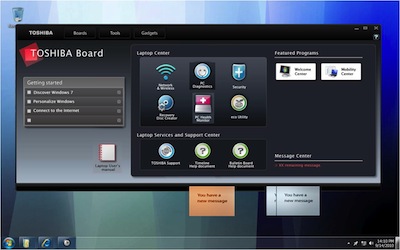 Toshiba Adds New, Innovative Content Organization and Media Sharing Apps to Laptop Lineup :Toshiba Bulletin Board, ReelTime and Media Controller Apps Deliver Enhanced Functionality to Further Simplify Everyday Tasks
In collaboration with Microsoft engineers, Toshiba announced three new software applications to help customers simplify everyday tasks and boost their home entertainment capabilities.  The three new applications, Media Controller™, ReelTime™ and Bulletin Board™ will be exclusively pre-installed on all Windows® 7 devices. The applications – Toshiba Media Controller™, ReelTime™ and Bulletin Board™ – will also exclusively come pre-installed on all Satellite® and Qosmio® consumer laptops as well as Toshiba netbooks and select Satellite Pro®, Tecra® and Portégé® business notebooks.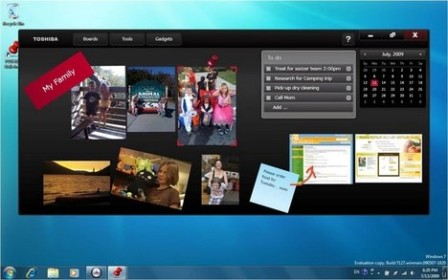 Media Controller: videos and photos can be easily shared and viewed through a host of home devices including a laptop, an Xbox or DLNA compliant TV. You can also share your favorite music files between devices — allowing you to listen to and control your music from anywhere in the house.  Through a simple interface, you can share and distribute content, dragging and dropping files and videos in one step.
ReelTime: Helps you easily find files based on when they were opened with a simple, fun visual history. You can quickly scroll through automatically generated previews of documents, photos, videos and more, filter by file type or use the calendar to go back weeks or months.
Bulletin Board: Gives you fast access to day-to-day activities, tasks and projects in a simple, visual and fun way. You have the ability to drag and drop photos, videos, links, documents and applications into one place. You can also personalize and organize the board by moving, rotating and resizing using gestures to fit personalized style. Bulletin Board also includes several built in gadgets such as labels, calendars, a clock and a to-do list, as well as a dedicated Toshiba Board, which provides easy access to software updates, network connectivity, user guides, technical support and more.

"With more media saved throughout the home, people are increasingly asking for easier ways to organize and share content on their laptops with their friends and families," said Carl Pinto, vice president of product development, Toshiba America Information Systems, Inc., Digital Products Division. "Toshiba is providing users with very simple user interfaces that allow them to easily take advantage of the advanced functionality built into Windows 7."
The new software applications are available now from major retailers, e-tailers and direct from Toshiba on www.toshibadirect.com as well as through select Toshiba Preferred Partner Program resellers.
Bulletin Board Software

Media Contoller Software

ReelTime Software