The Peek classic device debuted last year with mixed reviews. Some loved the simplicity of the device and low service cost, while others thought it was a waste of money and pocket real estate. It just didn't seem worth it to pay $100 for the device and fork out $20 a month for only e-mail functionality. It did, however, offer portable email for those too nervous to transition into a smartphone.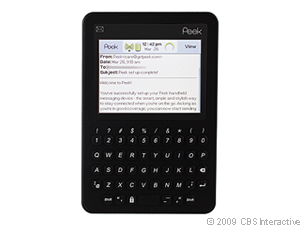 This year Peek is upping the annie with a much improved device, the Peek Pronto. Not only is the device and subscription cheaper, but also the second generation Peek Pronto now offers many more features.
You get up to five e-mail accounts, support for Microsoft Exchange, the capability to send and receive text messages, PDF and Word document support, and a universal search across the device's harddrive. The hardware is pretty much unchanged.
The Peek Pronto looks exactly like the original Peek. It is wide, thin, and flat, with a black rubberized front and a silver metal back. It measures 4.02 inches long by 2.7 inches wide by 0.42 inch thick, and is very lightweight at only 3.84 ounces. On its front is a 2.5-inch diagonal QVGA display just like before.
Underneath the display is one of the Peek's biggest selling points, its roomy QWERTY keyboard. The Peek Pronto's keyboard is slightly better than the one on the original–the keys are a little softer and have a nicer give when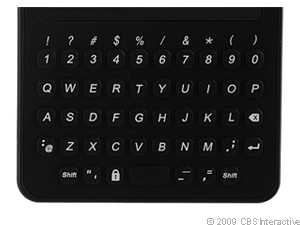 pushed.
[adsense]
Peek Pronto works with most e-mail providers including Yahoo, Hotmail, Gmail, and AOL. You can have up to five e-mail accounts (which is an upgrade from the three on the original Peek) and you can import your contacts over as well. If you want to add your Microsoft Exchange mail, you'll need to contact Peek with your network settings. Peek is working on a self-service portal to facilitate the process in the future.
Perhaps the most valuable addition to the Peek Pronto's features is the capability to send and receive text messages. It uses an e-mail-to-text gateway, so you basically send text messages like you would an e-mail address. This negates then need to pay for an additional texting plan.
As with the original Peek, the Peek receives its signal from regular cell towers, so you do need to be in a good signal strength area to send and receive messages. Also if you travel abroad, you might incur roaming charges.
There are also a variety of tips and tricks out there to add functionality to the Peek. For example, there's Twittermail, a third-party way to send Twitter updates via e-mail, and rss2email, a free tool for delivering your RSS newsfeeds to your e-mail client.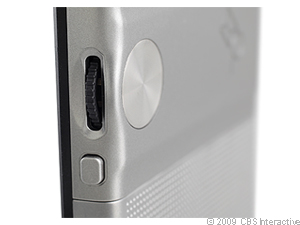 Peek Pronto is definitely a niche product, and many would think it unnecessary to have a device soley for email.  But if you tend to send more messages than talk on your phone, the Peek Pronto might be worth it. The Peek Pronto is available now for $79 for the device and $16.67 a month if you go for the quarterly plan. There is no contract required.(www.getpeek.com)