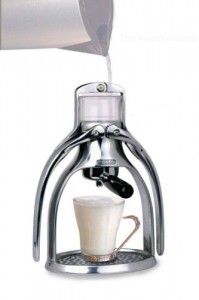 If you love coffee and the environment, then you might be in the non-electric Presso Coffee Maker. The Presso Coffee Maker is designed to give you a great cup of coffee without having a special coffer maker gadget plugged in all day (and wasting energy).
Although you do still need hot water to make your coffee, if you combine this with an eco-kettle, you'll have a great pair of eco gadgets that waste the least amount of energy. There's a simple technique to using the coffee maker to get the best coffee, and it only takes a few seconds too.
If you know people who can't live without coffee, this might be a great gift for them! To make your drinks as eco-friendly as possible, do try and use Fairtrade coffee beans too! Priced at just under £90, the Presso Coffee Maker is not cheap, but they are eco friendly!
Via: Enviro Gadget