Historically, the baby likes motion in a parent's arms- bouncing up and down, side-to-side.  Somehow this movement provides stimulation, comfort and even security for a baby.  Personally, it gives me a little motion sickness.  But I'm not a baby…..most of the time.
4Mom's, an online company that offers inventive baby and child products, has created the Mamaroo 2-in1 Bouncy Swing.  It features a motion that makes it possible to console crying infants automatically. You have the option to select any one of five motions and adjust their speed, thanks to a large LCD.
Use one of the five built-in nature sounds or connect your own MP3 player (ipod compatable) for your baby's listening pleasure. The seat of the Mamaroo fully reclines and the fabric is removable and machine washable, available in 6 colors.
[adsense]
The mamaRoo also comes with a toy bar, and 4Moms offers 3 designs of toy balls for the toy bar. Plush toy balls decorated in the style of Van Gogh, Monet, and Seurat. Black and white on one side for infants. Color on the other side for older babies. They easily pop in and out.
The mamaRoo provides the best of both worlds in the bouncy seat and swing categories. It's a true hybrid, offering five unique motions that mimic the bouncing and swaying movements mothers make when soothing their babies.
"We've never seen a parent vibrate their child like a bouncy seat, and hardly seen one swing a baby around like swing," says Rob Daley, co-founder and CEO of 4moms. "But we've seen thousands of parents scoop their little ones up in their arms and bounce and sway. And that's what the mamaRoo does. It moves like you do."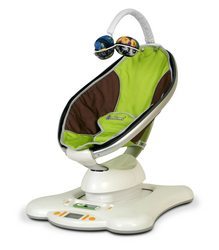 An easy-to-use LCD display allows parents to alter the speed and type of each movement depending on whether it's time for sleep or play. Not only are several soothing nature sounds included, but there's also a MP3 dock so parents can personalize the audio experience for their baby.
[adsense]
The Mamaroo 2-in-1 Bouncing Swing, winner of the 2008 JPMA innovation Award, will be available in March of this year for around $200. (www.4momsonline.com/mamaRoo)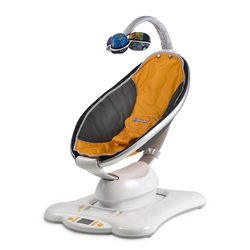 About 4moms
4moms is a brand division of Thorley Industries, Inc., a 3-year-old company that develops and markets products for the $7.0 billion juvenile industry. 4moms' award-winning products can be found at numerous retailers including Babies "R" Us, Amazon.com, BuyBuy Baby, USA Baby, Target.com and specialty stores and boutiques nationwide. (www.4momsonline.com)
Five moms from Mt. Lebanon, PA provided the original focus group for 4moms, and inspired the company's name (but 4moms sounds better than 5moms, so one mother took the title "The Stealth Mom"). Their experience (they have fifteen kids between them; one has TWO, yes TWO sets of twins) plus the expertise of a team of eleven engineers, researchers, and developers gives 4moms its innovative edge in the field of juvenile product design.