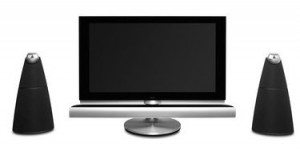 Mention Bang & Olufsen in the same breath and chances are you would feel a lump form in your throat as you know full well that you aren't able to afford purchasing anything from this brand, even if it is a souvenir item with its brand name emblazoned across it. Well, the same applies for Bang & Olufsen's latest release, the BeoVision 7 which comes with a new 55″ screen size, upping the ante where its previous 40″ model left off in North America. Known as the BeoVision 7-55, this model will integrate the sophisticated Bang & Olufsen BeoSystem 3 video engine that offers superior signal processing courtesy of its VisionClear package of picture improvement technologies. Apart from that, Bang & Olufsen introduces yet another improvement with the double frame rate technology at 120Hz alongside motion compensation and progressive scanning backlight. All these technologies will work in tandem to reduce the inherent blur typical of LCD screens by a significant margin, offering crystal clear and sharp pictures even under intense scenes.
[adsense]
The LCD display that comes with the BeoVision 7-55 will be based on new direct-type LED-backlight with local dimming for greater contrast. You will also be able to enjoy state-of-the-art features for a smooth picture performance, coupled with a sophisticated digital surround sound module, and gives you the bragging rights of being one of the few flat screen TVs that are in the market at the moment which comes with a built-in Blu-ray player for all of your High Definition needs.
You can choose from natural aluminum, black, blue, dark grey and red colors. Available at all Bang & Olufsen retail locations from the middle of this month till late November onwards, the entire BeoVision 7-55 system will cost you a whopping $18,700 – of course, it will also come with a floor stand and center speaker just in case you were wondering just how far the dollar's purchasing power is these days.