Pet Acoustics Inc announces the Pet Acoustics My Pet Speaker. This innovative speaker is the world's first sound system designed to cater specifically to the hearing sensitivities of dogs, cats and horses.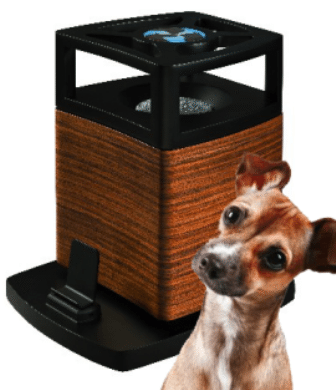 Co-founder of Pet Acoustics and a leading authority on music for animals, Janet Marlow has created a revolutionary speaker system designed for pets' delicate hearing. With their acute sense, pets can hear frequencies that are both much higher and much lower than what the human ear is capable of hearing. Sounds outside of an animals normal comfort range can startle or cause discomfort to our pets.
Designed to eliminate these unsettling frequencies, My Pet Speaker features an Omni directional speaker with a 4" drive unit and cone reflector which disburses the music in 360 degrees recreating how animals hear in nature. By producing limited frequencies and featuring a soft bass design for listening comfort, your pets will not be startled or disturbed by jarring volumes and piercing sounds that put them on alert.
My Pet Speaker keeps these alarming frequencies within the comfort range of your pet's hearing. This allows you to use your entire music library to fill you and your pets' environment with a sense of calm and relaxation.
[adsense]
My Pet Speaker features include:
•    Omni directional speaker and 4" drive unit with cone reflector disburses music for 360 degree sound
•    Soft bass design for listening comfort
•    Backside buttons to avoid pets contact with operation panel
•    Stable base design to prevent easy knock down by pets
•    Attractive real wood veneers for home and commercial decor
•    Works with any music device, including mp3 player, CD player, iPhone, iPod Touch, and iPod that include a 3.5mm output jack
•    Frequency response 200Hz ~ 12KHz
•    12.5in [D] x 9.84in [W] x 12.6in [H]
•    5Kg (net weight excluding transformer) 11.02 lbs
Pet owners can also download Pet Acoustics iPhone Application to create the ultimate pet sanctuary at home, at the vet, or even in the car. Unveiled in October of 2009, the Pet Acoustics' Application includes multiple tracks composed for you and your pets. My Pet Speaker coupled with the Pet Acoustics Application provides music and sounds that are tailored to fit the pitch, tone, frequency, and volume level for a pet's vulnerable hearing.
Pet Acoustics Application features include:
•    Frequency, volume, and rhythm designed for dogs, cats, and horses sensitive hearing
•    Reduces stress, aggression, and anxiety in pets caused by their reactions to sound
•    Play your choice of music categorized by pet type and environment
•    Multiple timers allow the user to set music to play throughout the day or night
•    Relaxes pets during travel, thunderstorms, barn time, training, alone time and grooming
Pet Acoustics' innovative iPhone Application is being downloaded by pet lovers all over the world and was recently featured on The Martha Stewart Show. Pet Acoustics co-founder and composer Janet Marlow is excited about the response, "With the overwhelming success and response to the Pet Acoustics application, we are so thrilled to provide this amazing tool that uses all music to create pet-friendly environments for pets everywhere. My Pet Speaker is ideal for pets at home, veterinary clinics, barns, pet care facilities, and is currently being used in horse stables to elicit relaxation by modifying frequencies that agitate equine hearing."
Pet Acoustics My Pet Speaker is available for $249.95 through Amazon (March) or Pre-Order (February) by visiting www.PetAcoustics.com. The Pet Acoustics Application is currently $1.99 and is available through iTunes or by visiting www.PetAcoustics.com.