In the last decade, equipment has really catapulted the game of golf and the performance we see professional golfers exhibit. Even the golf shoe is gaining some engineering attention to enhance a golfer's game.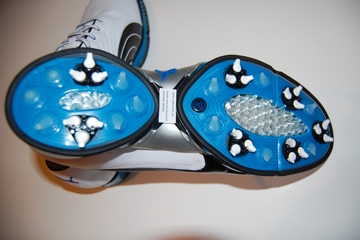 Puma is one of the first out of the gate to really pay attention to the golf shoe. They are combining their latest golf technology to create the Puma Cell Fusion. The Puma Cell Fusion features iCell technology, an array of hexagonal inner-cell components, in the forefoot and heel of the shoe, to enhance cushioning and increase stability.
The Puma Cell Fusion also features Puma's Smart Quill technology. The "quills" are molded and strategically placed to guarantee maximum traction during each portion of the swing. Unlike previous editions, the Smart Quill spikes on the Puma Cell Fusion are now replaceable, an added bonus, although the Smart Quill spikes are designed to last approximately two-years. The Smart Quill spikes are combined with extra TPU teeth in key areas of the heel and forefoot to enhance grip beyond previous generations of Puma Golf shoes.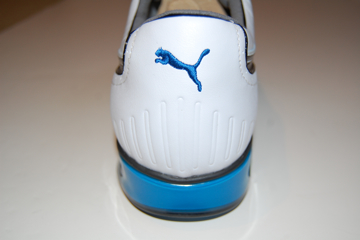 The Puma Cell Fusions are lightweight and comfortable. The Smart Quill spikes provide very good traction for most any golf terrain. Additionally, the Puma Cell Fusion's waterproof full-grain leather build keeps your feet warm and dry. Puma expertly combines form with function to create an excellent golf shoe. ($180, www.puma.com)
Published on 4 March 2010