It had to happen eventually. There's no telling how many devices are in production right now that are going to eventually run Windows Phone 7 Series, but we can certainly tell how many there are right now, at least. Up until about a month ago, we thought we were just seeing about two devices, the ASUS manufactured hardware that's been running the Windows Phone 7 Series software every time we've seen it since the official announcement, and the LG manufactured device that appeared a few weeks ago. But now, as we detailed earlier, Samsung has joined the game.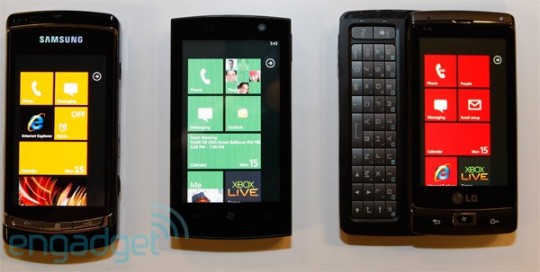 The team over at Engadget had an opportunity to have a quick meeting with the three handsets, and managed to take some quick snapshots of them as they posed for their moment in the spotlight. As for the phones themselves, we don't have any real details about the devices in particular. We have the minimum specifications to go off of, but from these images alone we can't really guess as to what kind of devices we can expect to hold in our hands. Or, more accurately, what's powering them.
[adsense]
As soon as we get some more information, we'll be sure to pass it along. As it stands right now, we're waiting to find out some more information on these LG and Samsung devices, because we've heard that the ASUS model is strictly for the beta software. But, things change all the time. As MIX10 continues, we'll be sure to bring you the latest information, so stay frosty.
Via : Slash Gear