Able Planet has released their latested headphones, the AudioPlanet True Fidelity NC300B headphones, which features their patented Linx Audio noise-cancellation technology.
They come in an attractive, hard carrying case which includes the headphones, an audio cord, and two adapters – a 1/4″ home stereo adaptor and an dual plug airplane adapter for the avid traveler.
The NC300B's require a AAA battery (included) for the noise cancellation feature, and they perform famously with reducing most of the ambient noise. The sound fidelity is superb, and the bass is deep and rich.
A plus for gamers who like to experience the full audio quality of game sound-effects, the Able Planet NC300B NC Headphones provide a very distinct listening style, and prove to be very versitle with all types of game systems.
The NC300B features an adjustable headband, patented LINX AUDIO technology, removable in-line volume control for easy adjustment to safe listening levels (no more hunting for the volume control) and state-of-the-art active noise cancelation (ANC). With over 20 International CES and CTIA awards, the sound quality has turned quite a few heads in the industry, particularly because of the quality and affordable price.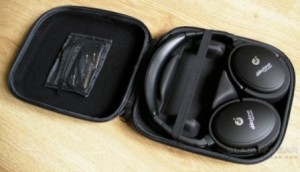 Overall, the NC300Bs are a winner, providing great listening for a variety of applications- gaming, iPod, airplane, hi-fi systems and the PC. The MSRP is $129.99 and can be purchased online. (www.ableplanet.com)
Published on March 20, 2010