Fujitsu announces the release of the Fujitsu LifeBook MH330, a Mini-Notebook that lets you breeze through life in style. At just 1.1kg and measuring just 18.5mm thin at the front and 24.5mm thin at the back, it is one of the slimmest Mini-Notebook in its class. The LifeBook MH330 is an indispensable road warrior that makes accomplishing assignments, attending off-site meetings or just chilling out delightful experiences.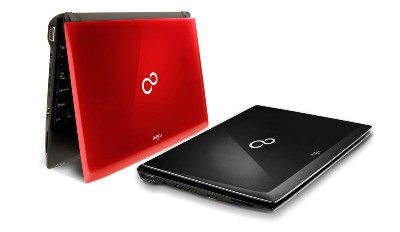 "The LifeBook MH330 Mini-Notebook is specially created to meet those users who are constantly on the move. By making this exceptionally slim and light, this Mini-Notebook makes it very easy to have a constant travelling companion. At its current size, thinness and weight, you won't even know that it's in your bag," commented Mr Lim Teck Sin, Director of Product Marketing, Fujitsu PC Asia Pacific.
Powered by Intel® Atom™ N450 processor (1.66GHz, 512 L2 Cache, 667MHz) and featuring a generous 250GB Hard Disk Drive, the LifeBook MH330 requires no additional external storage devices. Proving itself to be a true personal companion, the MH330 plays up its suite of connectivity tools for seamless file transfers – Bluetooth® v2.1, 5-in-1 Card Slot, Wireless LAN 802.11b/g/n and comes with a web camera for keeping in touch with friends while on-the-go via instant messaging.
[adsense]
Also doubling up as your perfect entertainment tool, the LifeBook MH330 features the 10.1-inch WSVGA back-light LED display with a resolution of 1024 by 600 pixels, 400:1 Contrast Ratio, making every video viewing an enjoyable experience. Together with the Dual Built-in Stereo Speakers, the MH330 gives you top-quality entertainment.
Fujitsu understands that working on-the-go may subject the notebook to physical stress and damages such as an accidental spill at a coffee joint during an offsite meeting. As such, the LifeBook MH330 is equipped with a Spill-resistant Keyboard which protects the Mini-Notebook from such occurrences and keeps it in pristine working condition anytime.
Knowing how having an optical drive can be a hassle with the added weight, the LifeBook MH330 features the DVD Sharing application that allows the ease of sharing of optical disk drive with other PCs via a wireless connection. You can simply use the optical drive from your primary PC or notebook with the MH330, giving you the option of truly travelling light.
Fujitsu remains firmly committed to the promotion of a cleaner environment and complies with the European Union's Restriction of Hazardous Substances directive (RoHS) across its entire range of products. In addition, Fujitsu has established a set of commitments that goes beyond RoHS requirements, thus allowing it to stay keenly focused on its customers' health and well-being as well as to embrace a healthier environment for all. By adopting a green factory concept and being committed to the cause of energy-efficient computing, Fujitsu also fights to sustain the Earth as a sponsor and a member of the Climate Savers Computing Initiative.  (www.fujitsu.com)
Published on April 05, 2010