This lightweight jacket is made from recycled materials. Featuring 'Tux' the linux penguin used as the logo for Linux it is bound to appeal to all open source eco enthusiasts.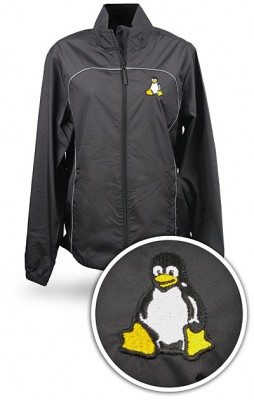 The Linux logo of 'Tux' the penguin is recognisable to all (or at least all that matter to those who know him!) and the ideals of open source software mesh well with being eco-friendly. The jacket comes in sizes ranging from small to large for men (which equates to medium to extra large in women) and is made from a polyester that has been fabricated from 100% recycled materials.
This polyester makes the coat light weight and water resistant, with its partial mesh venting in the upper back of  jacket the coat is suitable in all weathers keeping you dry and warm while preventing you from getting too hot. The black jacket has reflective piping on it both at the front and at the back, which helps reflect light to allow you to been seen at night. The jacket has a zipper closure to it and has pockets located towards the bottom of it. It also has inside port access for portable electronic items such as mobile phones and MP3 players.
Both the Men's Jacket and the Ladies Jacket are available for $29.99 each.
Published on April 03, 2010