Australia's first device that combines a traditional home phone with advanced mobile phone-type applications was launched today by Telstra. The Telstra T-Hub™ is a new generation of home phone that works like a mobile phone by combining the features of telephony, information and entertainment.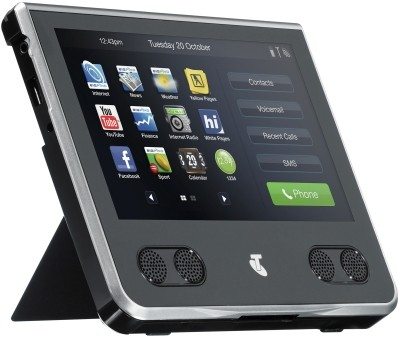 Telstra Chief Marketing Officer, Kate McKenzie, said the T-Hub featured a large, 18-centimeter touch screen that enabled users to make and receive phone calls and text messages, visit Internet sites, play music and radio stations, organise family activities, and view the latest news, sport and weather.
"T-Hub will suit Australians appetite for quick access to information, while enabling customers to perform many mobile phone-type applications on their home phone. Making a phone call on the T-Hub is simple with an easy to search address book and click-to-call. The handsfree phone on the touch panel makes it easy to multi-task in the kitchen. The cordless handset also enables a seamless transition to a more private conversation. Voice messages are displayed on the touch panel and can easily be selected to hear the message."
T-Hub also has mobile phone-like applications and features such as one-touch access to BigPond® and Sensis services as well as popular internet sites such as Facebook® and YouTube®. Customers can send a friend a message on Facebook® before heading out the door or enjoy unmetered access to BigPond news, weather and sport over breakfast without having to boot-up a computer.
T-Hub is looking to become the new family organiser with a calendar, notes, calculator and alarm clock, all of which can sit on the kitchen counter or be carried to another room. T-Hub works exclusively on Telstra's fixed line and broadband networks giving customers a high quality, reliable service. Customers can also back up their contacts on Telstra's secure network making sure they don't lose important telephone numbers.
The T-Hub phone plugs into a standard home telephone socket and links to a BigPond® broadband service accessed by a home wi-fi modem.
"We've trialled the T-Hub and some of the most popular features were handsfree phone calls from the touch panel plus local weather, sports, news and finance information. Customers also found internet radio a great feature for the kitchen or living area, along with a digital photo frame", said McKenzie.
T-Hub is available in Australia, and can be purchased as part of Telstra's 15 bundled options such as the Home Bundle 12GB plan for $109 per month plus $35 upfront, which includes unlimited local calls, 12GB of data and a Home Network Gateway on a 24 month contract.
In addition to traditional home phone features, the T-Hub also includes:
A large, 18cm touchscreen: make and receive calls, send text messages to mobile numbers on the Telstra network and most Australian fixed numbers, receive voicemail messages, and view lists of recent incoming and outgoing calls.
Mobile phone-like applications: using wireless internet access, customers can connect to popular social networking sites such as Facebook®, Twitter® and MySpace® and use pre-loaded BigPond search icons for news, sport, weather and entertainment.
Easy click search: to help users find phone numbers with one-touch access to Australia's online phone directories: White Pages®, Yellow Pages® and 1234.
An organiser for family activities: include a calendar, notes for family members, lists of important contact numbers and addresses, and an alarm clock.
An entertainment hub: to play music, listen to Internet radio, watch videos on Facebook, YouTube, visit, or use it as a digital photo frame.
Published on 19 April 2010