Bang & Olufsen has recently announced the BeoLab 11 subwoofer. It has a small footprint, sleek design, and the tulip-shaped BeoLab 11 unit uses two opposing drivers to take advantage of the "Acoustic Balance Principle", a first for B&O in subwoofer design.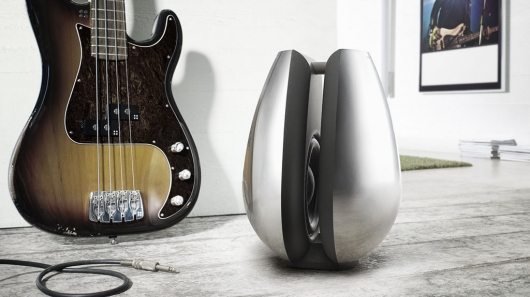 The BeoLab 11's aluminum outer shell contains a built-in 200W ICEpower amplifier and two 6.5-inch drivers which deliver sounds in the 33-125 Hz frequency range. The advantage of the tulip-shaped cabinet is that the two drivers are placed in opposition to produce "in-phase" frequencies, which effectively eliminates almost all unwanted vibrations from the unit. The design also lends itself to versatile placement options not catered for by most sub-woofers.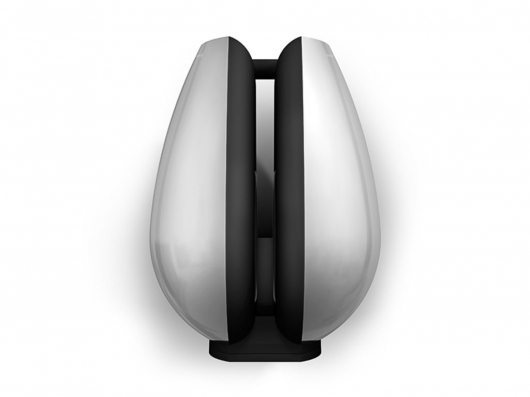 "Thanks to its acoustic principle, which reduces to a minimum the vibrations normally experienced from a subwoofer, BeoLab 11 can be placed either on the floor or can be hung on a wall – and it will offer great performance in either position. Hanging a subwoofer on the wall is quite unorthodox. However, in many home environments this may be the preferred placement, as it will be possible to hide the cables and it will free up floor space," states Michael Jensen, Product Manager Bang & Olufsen.
Here are some specs:
Dimensions/Weight: 22.7 x 30.8 x 23.8 cm/7.3 kg
Power Amplifier: 200 W, Class D, ICEpower
Effective Frequency Range: 33-125 Hz (upper limit determined by setup)
Bass Driver: 2 x 6½" cone
Features: Adaptive Bass Linearisation (ABL), Input sensitivity switch, Room adaptation switch, Thermal protection, Line sense auto switch on/off, Internal / external bass management.
The Beolab 11 is expected to sell for around $2000 when it hits the U.S. in May. The units will be available in silver, white, black, dark grey, red, blue and golden finishes.
Published on  April 20, 2010