Velocity Micro is launching two new tablets, which run Google's Android OS, the Cruz Tablet and Cruz Reader. The Cruz Reader is the cheaper of the two and it features a 7-inch touchscreen display, Adobe Flash 10.1, SD card Slot and an 800MHZ processor.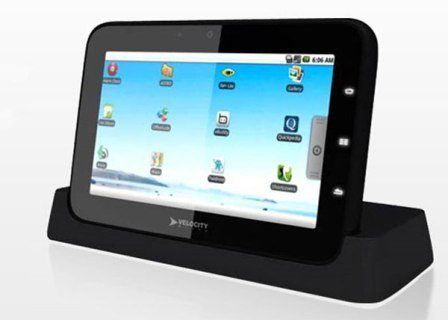 The Cruz Tablet also feature a 7-inch Touchscreen display, has support for Adobe Flash 10.1, and also has an 800MHz ARM processor and an SD card slot.  Both will run Android 2.1.  Other features on both the Tablet and the Reader include a browser and media player, an accelerometer, USB connectivity and a 3.5mm headphone socket, along with a user-replaceable battery, speaker and microphone.
The 7.5 x 5.6 x 0.6 inch Cruz Reader will be targeted, as the name suggests, as an eReader, with the "Cruz Market" app store for downloading software and ebooks.
Meanwhile the Cruz Tablet throws in a 2-megapixel front-facing webcam together with a docking station that charges the slate as well as allowing it to work as a digital picture frame. Besides over 50,000 Android Market apps, both models with have access to application from the 'Cruz Market'.
The Cruz Reader will retail for $199 and the Cruz Tablet will retail for $299.  When they will reach the retail market will be announced soon, but it is slated for this summer.
Published on April 27, 2010