Digital Foci, Inc. announced today that it's shipping the new Pearl White "Wedding" Version of its popular Photo Book, a portable digital photo album with an 8-inch 800×600 color digital LCD screen and 4GB of internal memory.  Available May 21st (with pre-orders starting now), Photo Book in Pearl White is the perfect digital wedding album, with a sleek design encased in a soft leather-like case for an elegant photo album that makes an attractive first impression, matching perfectly with wedding themes.
Photo Book is an easy and innovative way for people to enjoy and share their wedding photos with friends and family. With Photo Book, users have easy access to their photos in a portable album that can be brought along to enjoy and share anywhere. Ideal for passing around while sitting on the sofa and at family gatherings, Photo Book can run for over 2.5 hours on its internal battery, giving you the convenience to share your photos in any setting.  Compared to digital photo frames, the internal battery on Photo Book makes it very easy to handle, eliminating the need to deal with messy AC power cables.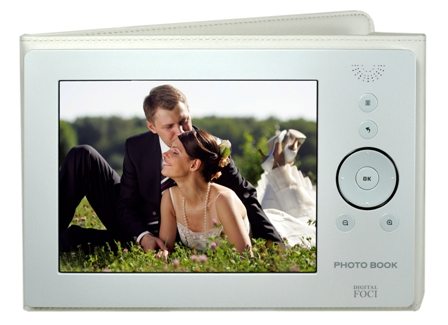 Introduced in 2009 as a "Professional" version, the Black Photo Book has been consistently awarded PMA Retailer's "Hot Pick" (at PMA 2009 in Las Vegas, PMA Canada 2009 and PMA Australia 2009).  As predicted by these panels of retail buyers with expertise and knowledge of the photo industry, Photo Book was one of the hottest sellers of the 2009 holiday season.
Photo Book lets consumers organize their photos into different album collections and choose a specific album to view.  The "Photo Album View" displays each folder as a separate photo album, showing its folder name and a preview image of the first photo in the album.  Brides and photographers can easily organize their photos into different albums by event. Creating albums named "Engagement," "Ceremony," and "Reception," will makes it easy select a particular album to view. "Photo Thumbnail View" lets you browse through the thumbnails of the photos in a selected photo album. In addition to running a full screen photo slideshow with adjustable time intervals, you also have the option of running the slideshow with a realistic page-turning effect.  It is just like you were flipping through an actual photo album. You can also add music to play in the background along with your slideshow.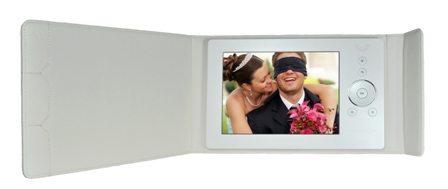 To start using Photo Book, simply load photos to internal memory directly from a memory card (CF, SD, SDHC, MMC, xD-Picture Card, Memory Stick, and MSPRO), by USB flash drive, or from your computer. With the included USB cable, you can connect to your computer to easily transfer photos, video, and music to Photo Book.
Perfect for wedding photographers to professionally display thousands of photos in a sleek portable portfolio, Photo Book supports RAW images from a wide selection of DSLRs, in addition to JPEG, BMP, GIF, and TIF image formats.  Photographers can organize their photos into different collections, and choose a specific collection to show depending on their audience.  Photos are automatically rotated to their correct orientation based on the EXIF data captured by the camera, and can also be zoomed, panned, and rotated.
Photo Book Features:
·        8" digital LCD with 800 x 600 resolution.
·        4 GB internal memory holds thousands of digital photos.
·        Built-in memory card slots provide native support for: CF, SD/HC card, MMC, xD-Picture Card, MS/MS PRO (Supports mini-SD, RS-MMC, MS Duo with adapter).
·        USB host capability – supports USB flash drives.
·        Copy albums directly from memory cards or USB flash drives to internal memory without needing a computer.
·        USB 2.0 connection for transferring photos between your computer and device.
·        Displays each photo album with folder name and photo preview.
·        Optional displays show photo file name and slideshow counter.
·        Run automatic Full-Screen or Photo Book photo slideshows with adjustable time intervals.
·        Scroll photos manually with zoom and rotate functions.
·        Supported image formats – JPEG, BMP, TIFF, GIF, RAW image files from a wide selection of DSLR cameras.
·        Automatic photo orientation based on EXIF data.
·        Supported audio formats – MP3, AAC, WMA – music will play in the background during slideshow.
·        Supported video formats – MJPEG, MPEG-1, MPEG-4 SP.
·        Built-in 1 channel, 1.4W speaker.
·        Runs on rechargeable Lithium polymer battery with 2.5 hours of battery life.
·        Comes with soft leather-like case that protects Photo Book and makes an attractive presentation.
Pricing & Availability
Available May 21st (with pre-orders starting now), Photo Book Pearl White "Wedding" Version is priced at $189 SRP through Digital Foci at www.digitalfoci.com and major retailers, such as www.amazon.com, www.bhphotovideo.com, and www.adorama.com.  Also available in Black "Professional" Version, Photo Book includes a leather-like case, AC power adapter, USB to computer cable, USB adapter to USB flash drive, and Quick Start Guide. See www.digitalfoci.com for more info.
Published on May 19, 2010