This just in from Pentax……
Latest Optio Color Also Features The W90 Series' Unique Macro Photo LED Lighting,
Fun Carabiner Strap And Eye-Fi Connectivity
PENTAX Imaging Company has announced that the PENTAX Optio W90 will be available soon in a third color choice.  As early as next month, the eleventh generation PENTAX Optio W90 will become available in orange, in addition to green and black.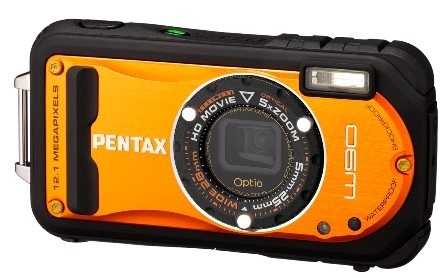 Every PENTAX Optio W90 offers enhanced waterproof, shockproof, dustproof, and coldproof performance and features an inventive Digital Microscope mode with LED lighting to capture small but intriguing subjects.  Designed with the look of mountaineering equipment, every Optio W90 kit includes a woven web fabric strap complete with a carabiner to attach the camera to a backpack and other outdoor gear.
Adventure photography doesn't get any better than this.  First announced in February 2010, the Optio W90 already has garnered the Outside magazine's Gear of the Year 2010 award as well as editorial praise in other national publications including Better Homes & Gardens, Motor Boating, Men's Journal, Popular Photography & Imaging, and Time magazine.
The rugged Optio W90 offers photographic performance, innovative features and style that surpass other outdoor compact digital cameras now available on the market.
The orange PENTAX Optio W90 will be available exclusively on www.tigerdirect.com.
Published on Jun 22, 2010