This report just in from Frank N. Magid Associates, a foremost expert firm on consumer trends and research, sheds light on the gigantic industry of Mobile Apps….
BURLINGAME, CA & NEW YORK, NY – Jun 22, 2010 – Virtual goods purchased on smartphones are a new emerging market in the United States. Who is actually buying them and how much they're spending, however, has not been completely understood. Today, Frank N. Magid Associates and mobile social gaming network OpenFeint are shedding some light on the subject by providing the first-ever estimate on how much Americans are currently spending on virtual goods.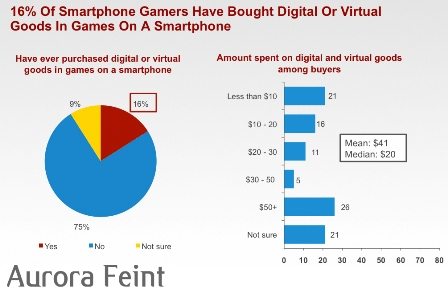 According to the study, Magid Media Futures 2010 Wireless and Consumers, Americans spent $168 million on mobile virtual goods in the last year. Magid estimates that over 70 million Americans now own smartphones – that's 23 percent of the population. With 45 percent of those smartphone owners playing mobile games and 16 percent of those spending an average of $41 per year on in-game virtual goods, the market has already exceeded $168 million.
"The market for virtual goods has already exploded in web-based games like Zynga's Farmville, and we're just now starting to see this trend in the mobile space," said Steve Lin, VP Operations of Aurora Feint. "In just the last few months we've seen amazing interest from our game developers in building mobile social games with virtual goods. Our internal numbers reflect the study in that free-to-play models will be the dominant pricing structure in the future."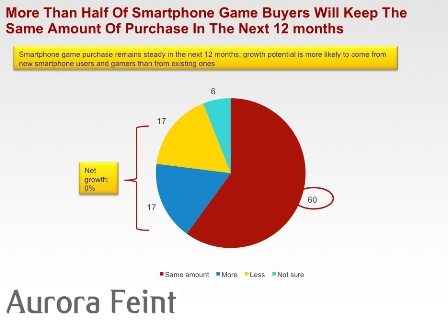 With 55 percent of smartphone gamers interested in buying virtual goods, the market is poised for strong growth as more virtual goods-based games enter the market.  The study also shed more light on who is likely to play games on smartphones. Compared to the general population, smartphone gamers skew male and are between 18 and 34 years of age.
Smartphone gamers are active consumers of multiple games, downloading 14 games on average per year. Of these games, recipients paid money for 4 games and obtained 10 for free meaning that consumer pay for mobile games at a 2:5 ratio vs. downloading free games. As expected, Americans are most likely to review application store rankings to find games, but are also likely to rely on word of mouth and the suggestions of their friends.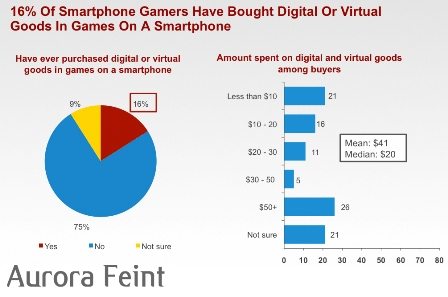 "Everybody knows free-to-play social gaming models on PC platforms have been making a killing but mobile virtual goods aren't as well understood," said Mike Vorhaus, President, Magid Advisors. "With almost 20 percent of smartphone gamers already making purchases, there's a lot of room for the market to keep taking off as smartphones continue to increase in popularity."
This is the first half of a two-part study that will be released this Summer.
Published on June 25, 2010