If memory serves, the last time we showcased a folding piece of bathroom gadgetry, it was a toilet — and it was far more compact than this big thing is. Not that we'd expect a shower to be all that compact, but considering the market that the designers are aiming this thing for, we would think that size would be a focal point. As of right now, the designers are looking for a manufacturer and distributor to bring the Folding Shower to the world, so it at least sounds like they think they've got a great idea.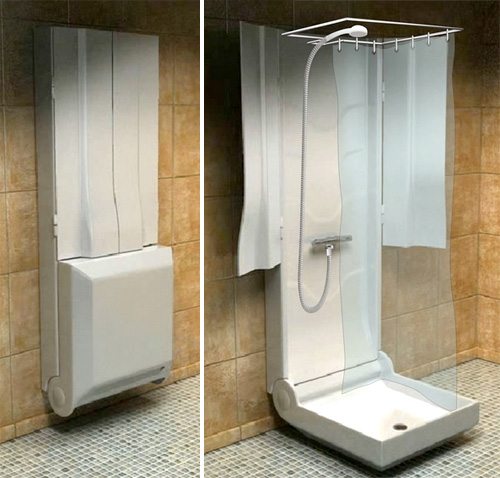 The point of the Folding Shower, according to the designers, is for folks who find themselves living in a small apartment and are in need of a shower that doesn't take up too much room. Now, we could be wrong here, but we would normally be under the impression that even the smallest apartment has a shower — mostly because they're small, and therefore can't fit a traditional bathtub. Plus, there's always the point that if you can't afford an apartment that has a shower, maybe buying a Folding Shower isn't in your budget, either.
[adsense]
And we can immediately tell that it's not as portable as we would like, either. But then again, not many plumbing-oriented gadgets can be, right? You need all those pipes and drainage taken care of, so moving your bathroom appliances around probably isn't as viable as we might imagine. Nevertheless, we love the idea, but all we can do at this point is hope that something like this takes off, and the prices aren't astronomical to start (but we're sure they will be).
Via: SlashGear