The Red Oxx Sky Train is an extremely versatile bag.  You can carry at least a week's worth of clothing, and you can carry it like a briefcase or messenger bag thanks to its two handles. The Sky Train has a lifetime guarantee and measures 20″L x 9″W x 13″H, with a 2,340-cubic-inch capacity.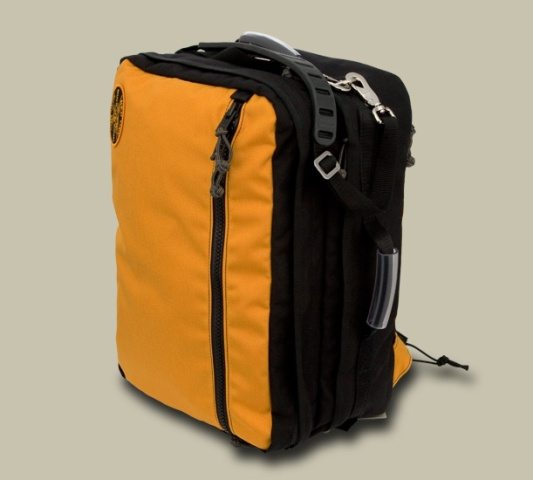 Red Oxx teamed up with web author and travel expert Doug Dyment of OneBag.com fame to develop this carry on backpack travel bag. There are actually 3 ways you can carry the bag: 1. Carry like a suitcase (Euro handle),  2. Over your shoulder like a messenger bag, OR  3. Pull out the retractable backpack straps and travel in hands-free comfort.  Grab loops on the sides help make stowing the bag in the overhead bin a snap. Fits the luggage boarding size restriction box, under your seat, etc.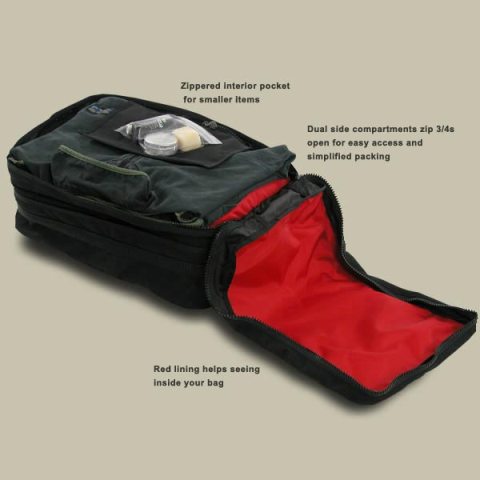 Two main interior compartments and 1 full length outside zippered flat pocket accommodate plenty of room . The main compartment tie downs cinch down to the closed cell Volara foam, securing your clothing. These tie-downs help keep your slacks and dress shirts wrinkle-free until you can hang them up in the hotel. The Sky Train can easily hold 3 pairs of slacks and 3 blouses with room leftover for a light jacket.  A secondary compartment has a foam stay and a small pocket for stashing personal items or toiletries (9″ x 12″).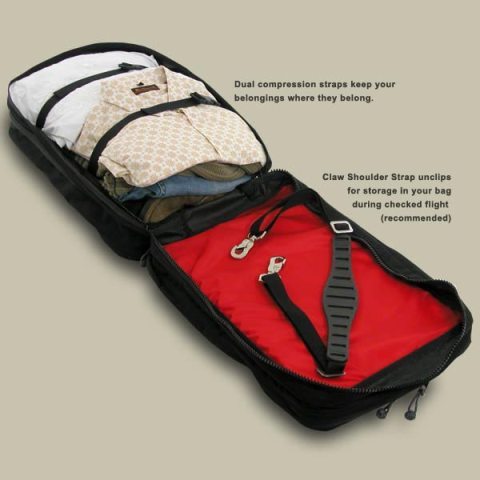 Here are some specs…..
Dimensions: 20″L x 9″W x 13″H
Capacity: 2,340 Cubic Inches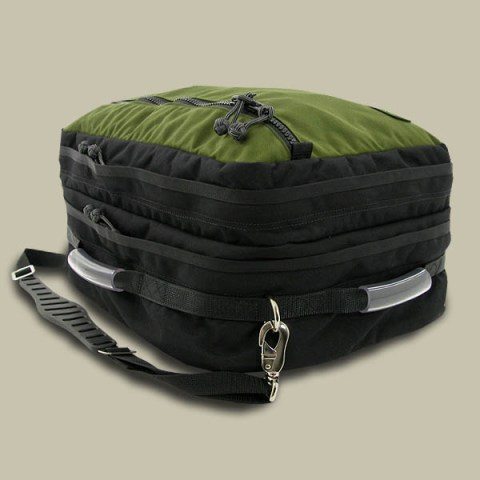 Pocket measurements:
Exterior zippered full length side flat pocket: 13″H x 19″W
3/4 open flat zippered side compartment: 13″W x 19″L x 1″D
Interior side compartment zippered flat flap pocket: 11″W x 9″D
Main compartment with adjustable twin tie downs: 19″L x 13″W x 6.5″D
Exterior zippered full width backpack straps flat pocket: 13″W x 19″L (Note: this pocket is for storing the straps. Since it has holes in the bottom for steel o-rings to attach the straps to the bottom of the bag, the pocket is only useful for flat magazines, newspapers and storing the straps).
The Sky Train retails for around $255.  www.redoxx.com
Published on July 23, 2010