China's Ordro has introduced the HDV-D350, the first camcorder with a detachable PICO Projector. The HDV-350S captures up to 1080p video at 60 fps or 12 megapixel still pictures, features 10x optical zoom and includes a removable pico-projector with a Texas instruments- chip DLP, which throws a WVGA (854×480) resolution image with a brightness of 15 lumens.  That equates to a large 60-inch projection.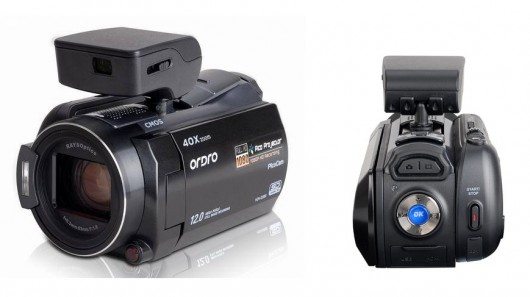 The HDV-350S is also equipped with 3" touch LCD screen, two built-in SD slots plus 128 MB of built-in memory and HDMI out. The 1080p is projected at 1440x1080p as opposed to a somewhat standard16:9 ratio 1920×1080, but given that the camera has a 10.0 MP CMOS sensor, the 12-megapixel still images will have some degree of interpolation.
The Ordro HDV-D350S is now available for around $550 directly from Ordro with free US shipping or $750 from amazon.com.